Evaluators
Cattle
Cary Crow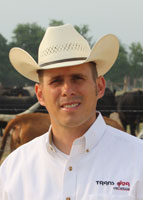 Cary Crow was raised on a commercial cow/calf operation located in the flint hills of Kansas.  He is a graduate from Kansas State University in Animals Science and was a member of the 1996 National Champion Livestock Judging team.  Cary went on to graduate school at Missouri State University, receiving his masters in Beef Reproductive Physiology.  While in graduate school he coached the livestock judging team there to its highest National Contest finish in the schools history.
Cary spent 3 years as a livestock judging coach and professor of animal science and agribusiness at Coffeyville Community College in Kansas.  He has spent 10 years in the reproductive industry and is currently employed by Trans Ova Genetics as their national beef sales director.  He has had the opportunity over the past 15 years to judge cattle throughout the country at multiple state, regional, and national level shows including numerous State Fairs and Junior Nationals, along with shows in San Antonio, Fort Worth, Kansas City, and Louisville.   For the last 17 years he has maintained a small herd of registered Simmental cattle in which he sells performance breeding stock and show prospects.
Marty Ropp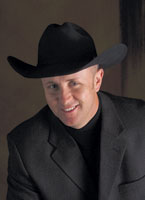 Marty Ropp is founder, part owner and executive officer of Allied Genetic Resources. Originally from Normal Illinois, the current home office of Allied, Marty grew up in the swine seedstock business but left Illinois in 1982 to pursue his collegiate career in Kansas. There, he received a B.S. Kansas State University and followed with a M.S. from University of Missouri. Marty also coached the Livestock and Meat Animal Evaluation teams of the University of Missouri during his teaching tenure there. He then held positions as University Extension (Regional Livestock Specialist), for the University of Missouri then Michigan State University, before coming to the American Simmental Association in 1998. For twelve years and most recently he served as the Director of Field Services for the American Simmental Association located in Bozeman Montana.
In addition to coordinating the commercial marketing, seedstock marketing and fields staff services of the association, he coordinated and grew the long running ASA Young Sire Evaluation Program. While at the ASA, he received the Golden Book award from the World Simmental Federation for distinguished service and recently received the Continuing Service award for the Beef Improvement Federation for his efforts toward large scale genetic information collection and promotion of change.
Jack Ward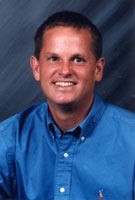 Jack Ward is the Chief Operations Officer and Director of Breed Improvement for the American Hereford Association. He earned his Associate of Science Degree from Black Hawk East, Kewanee, Illinois and BS degree from Purdue University. He has judged livestock shows for over 25 years. Together with wife Mary Ann and sons Cameron and Carter, they run about 25 cows still at Plattsburg, MO.
Goats
Justin Burns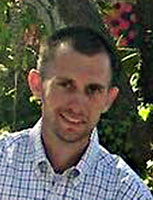 Justin Burns' livestock experience is well rounded with an emphasis in the Boer goat industry. He and his wife Jennifer started raising show goats in 2005 and added club lambs in 2008. He has judged market and breeding goats at the county, state, and national level, as well as judged sheep and hogs at large competitive shows. He continues to educate himself on the current market trends and uses superior genetics and animal evaluation to improve his herd and sell quality animals that have won in both the breed and market arenas.
Completing his Bachelor Science Degree from Sacramento State University in CA fueled his desire to educate the youth entering the goat industry so he's dedicated his time, knowledge, and experience to organizing and teaching several educational seminars for the show goat industry. Justin believes that exposing junior showman to all aspects of the show world and meat industry creates a new excitement for the expanding goat market and builds a foundation for a successful future. Justin currently coaches the Liberty Ranch FFA Livestock Judging Team in Galt, CA, sits on the CA Grand National Livestock and Rodeo Advisory Committee, and is a certified judge for the International Boer Goat Association.
Brian Faris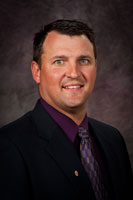 I grew up in Sonora, Texas. I was deeply rooted in the 4-H program showing market lambs, raising breeding sheep, and participating in judging and leadership activities . My father was the county extension agent which afforded me the opportunity to work closely with the sheep and goat industries from an early age. I attended Texas A&M from 1993 to 1997 where I completed a Bachelors in Animal Science. I received a Masters in Animal Science from Angelo State University in 2001, and concluded my formal education with a Ph.D. in Animal Science from New Mexico State University in 2004. Shortly after the arrival of the Boer goat in 1993, the meat goat project began taking shape throughout the country. I started judging market lamb and goat jackpot shows throughout Texas in 1998. I never fully realized that I would have the honor of working with so many great kids while judging several national, state, and county meat goat shows from coast to coast in the years since. I became a certified American Boer Goat Association judge in 2005, and have sorted several ABGA shows since that point. I served on the ABGA Board of Directors from 2008-2012, and was the President of the ABGA in 2010-2011.
While judging has brought me a great deal of joy, nothing brings me more satisfaction than educating people both young and old. I worked as the Extension 4-H Youth Livestock Specialist at North Carolina State University from 2004-2007. I then became the Extension Sheep & Meat Goat Specialist at Kansas State University in 2008 to the present.
This site is dedicated to education and I am very humbled and honored to be a part of the JudgingPro Goat Committee. The potential it has for educating young and continuing the education of old evaluators of livestock is unlimited.
Josh Taylor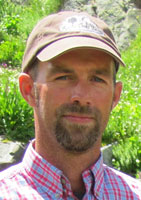 I grew up in Illinois and showed cattle at all levels all over the country. I attended the University of Missouri and Western Illinois University. I have worked at numerous cattle ranches across the country fitting show and sale cattle of all different breeds. I moved to Oklahoma in 1999 when I started working for Star Lake Cattle Ranch in Skiatook. During my tenure at the ranch working on the show and sale cattle, Star Lake has exhibited numerous champions at National shows.
In 2001, I married my wife, Ashly, and we had our son, Sam. Both my wife and son are actively involved in the day to day activities of our Boer goat ranch. We purchased our first goats in 2004 and have since kept a small but high quality herd in tack with a focus on the Junior Industry. Upon seeing the popularity of the Boer goat breed, we rapidly became more involved in showing our goats in the surrounding area. This led to my desire to become an official ABGA certified judge, which I obtained in 2010. I have since judged several ABGA shows along with several jackpot and county wether shows all over the United States.
Sheep
Brad Angus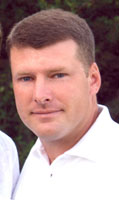 Brad Angus is a professor and former livestock judging team coach at Joliet Junior College.  Brad was raised on a diversified grain and livestock operation in northern Illinois and was actively involved with 4-H and FFA livestock projects and livestock judging.  He received his BS and MS in Animal Science from the University of Illinois before joining the faculty at Joliet Junior College in 1995. 
 Brad was a successful member of the Illinois State 4-H judging team and the University of Illinois Livestock Judging and Meat Animal Evaluation Teams.  He has been honored to judge youth shows in more than thirty states and Canada.  Brad, his wife, Julie, and their two sons own and manage a purebred sheep and club lamb operation on the home farm near Ottawa, Illinois.
Craig Beckmier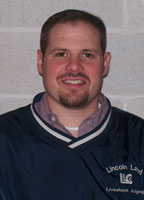 Craig grew up on the family grain and livestock farm in central Illinois. The 100 head commercial cow-calf operation and 75 head of purebred sheep they raised sparked an interest in livestock judging that has greatly influenced his professional career. Currently Craig is the animal science instructor and livestock judging team coach at Lincoln Land Community College in Springfield, IL.
Craig was a member of the 1994 Illinois State 4-H Livestock Judging Team which was coached by Brad Angus. He then judged in 1995 for Lake Land and was a member on the Champion team at NAILE. Beckmier transferred to the University of Illinois, where he judged in 1997 for Dr. Steven Myers. During his junior and senior college judging careers, Beckmier was recognized multiple times for reasons and was also the high individual in sheep at NAILE in 1995.
Beckmier then went on to receive his Master's Degree from the University of Illinois. While there he co-coached the Illinois State 4-H team for two years and went on to coach the University of Illinois team in 2000 and then had the pleasure to coach the 2001 team along with Dan Shike. He currently resides on the home farm with his wife and son raising 60 head of ewes; Montadales ,Hampshires southdowns , and club lambs. He continues to judge shows throughout the nation.
Scott P. Greiner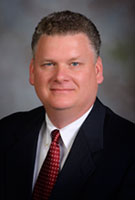 Dr. Scott Greiner is an Associate Professor and Extension Animal Scientist in the Department of Animal and Poultry Sciences at Virginia Tech. Dr. Greiner was raised on a diversified livestock farm in Eastern Iowa, and attended Iowa State University where he earned a B.S. in Animal Science in 1989. His graduate studies included an M.S. from Michigan State University and a Ph.D. from Iowa State.
As an undergraduate, Greiner was a member of the Iowa State Meats, Livestock and Meat Animal Evaluation Teams. He was high individual and member of the winning team at the National Collegiate Livestock Judging Contest in 1988. He coached many successful livestock teams at Michigan State and Iowa State, including two National Champion Teams at ISU in 1992 and 1993. In 1998, Greiner joined the faculty at Virginia Tech. As an Extension Animal Scientist, he designs and delivers educational programs in beef cattle and sheep to adults and youth, and conducts applied research. Greiner has judged national, regional, state, and local livestock exhibitions in over 30 states.
He is currently Superintendent of the National Collegiate Livestock Judging Contest held annually at the North American in Louisville, KY.
Swine
Brian Anderson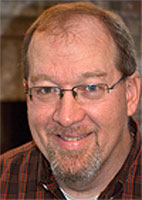 Brian serves as a fieldman for the National Swine Registry, traveling across the Southwest region of the U.S. to promote purebred Duroc, Hampshire, Landrace and Yorkshire swine. He attends all regional NSR and NJSA shows and events and works with producers to market their genetics nationwide.
Brian holds an associate's degree from Fort Scott Community College, as well as a bachelor's in animal science production from Kansas State University. Before joining the NSR, Brian coached junior college livestock judging teams for nearly two decades at Coffeyville and Fort Scott Community College, both in Kansas. He has judged shows across the nation and has been involved in the purebred and showpig industries his entire life. Most recently, Brain worked for Sunglo as a showfeed specialist.
Brian and his wife, Jennifer, reside in Caney, Kan. They have three children: Andrew, Brenden, and Lily.
Ryan Sites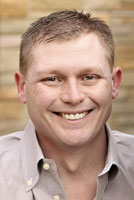 Ryan Sites is a sales manager for Show Rite show feeds in the Oklahoma area and surrounding states. For Show Rite, he puts on many feed and showing clinics for both 4-H and FFA exhibitors. Ryan is a graduate of Oklahoma State University where he was a member of the 1995 livestock judging team. After graduation, he was an ag teacher in Elgin, Oklahoma for nine years before taking his current position with Show Rite.
Ryan and his wife Wendy own and operate Sites Livestock raising Chester and Crossbred show pigs. Ryan has judged many state and national shows across the country.
Cody Sloan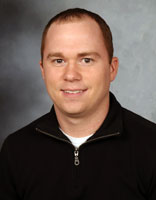 Cody Sloan was raised in Cameron Missouri on a diversified farming operation that included show cattle, show pig, and row crop production. Cody was highly active in many activities growing up including heavy involvement in the 4-H and FFA organizations. He and his brother, Troy, have shown both sheep and hogs competitively at all levels. He was a member of the Coffeyville Community College Livestock Judging Team in Coffeyville, Kansas in 2005-2007, judged for Texas A&M in 2008, and received his B.S. in Animal Science from Texas A&M in the spring of 2009. Some of his judging accolades include receiving All-American honors at both the junior and senior college level as well as the high individual at the 2008 American Royal while judging for A&M. After receiving his B.S., he served as the assistant coach from 2009-2011 at Texas A&M while working on a Master's of Education in Agricultural Leadership, Education, and Communications which he received in the fall of 2011.
Currently, Cody works with Kansas State University Research and Extension as an Agricultural Extension Agent for Miami County in Paola, Kansas. On the farm, he helps manage and operateTeam Sloan Livestock which has grew to 35 head of sows as well as 250 head of commercial cows. He is also in the process of building his own show goat and sheep herd and stays active with the 4-H and FFA organizations and other livestock related youth activities as often as possible.